In 1934 the USAAC started a contest in which they were looking for a bomber that had a range of 2200 miles, top speed of 225mph and could carry 4000lbs of bombs. One of the entries into the contest was the Boeing 299.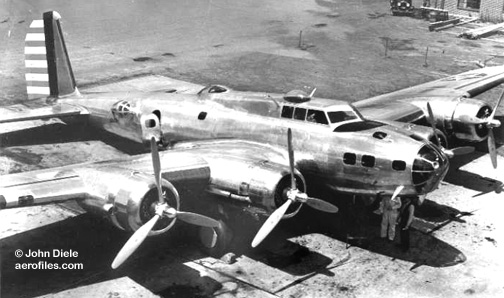 The 299 made a speed record at the contest of 252mph. Unfortunately, due to pilot error, the plane crashed on the demonstration field and the pilot and an observer were killed. In spite of this, the Army awarded Boeing a contract and Boeing went about the task of making another prototype, the Y1B-17. This bomber had few differences from the 299, it used Wright Cyclone engines instead of the Pratt and Whitney Hornets, and it had a crew of six instead of seven.
The B-17A was basically the same as the Y1B-17, it was just a model used as an engine test bed.
The first production model was the B-17B, 39 were built. It was modified but mostly on internal systems, such as a switch from air to hydrological brakes. For the most part it was the same as the B-17A, only noticeable difference is the larger rudder.
The B-17C was an improvement on it's predecessors, but by no means had it arrived. It had better engines, some armor, and self sealing fuel tanks added. A center fuselage gun position was added. A gondola it is called, kinda looks like a big blister on the bottom of the plane. The waist gun blisters were removed and replaced with sliding panels, a much safer option. You see that anything sticking out from the fuselage of a bomber has more of a chance of getting hit by enemy fire. The British evaluated the B-17C and it was well not impressive. Most of the missions were never completed do to mechanical issues, and a lot of them crashed.
This is my favorite WWII bomber!
I LOVE the way it looks...
Thanks for the informative post and wonderful pictures.

Blessings!
Kristenea
I am not done yet, there is more coming. I think I have around six more models to cover.
GREAT! I look forward to them.

Blessings!
Kristenea
Similar topics
---
Permissions in this forum:
You
cannot
reply to topics in this forum