The P-47 was a heavy, tough, and very deadly fighter, used early on in WWII as a bomber escort it later was used for ground attack which it got quite a reputation at, and the German ground forces greatly feared it. It weighed in at about 18000lbs fully laden, and that made it the heaviest fighter of the war, and interestingly it was in spite of it's weight one of the fastest piston engined planes ever built. Its toughness is illustrated by many a German fighter running out of ammo trying to shoot one down and still not getting it. This quality made it good for ground attack, for ground attack is one of the most dangerous missions a plane can fly. Chuck Yeager said that it could take more hits than a battleship and not go down.

http://en.wikipedia.org/wiki/Republic_P-47_Thunderbolt
This is a great page, if you are not into technical stuff just scroll down to the pilot's account at the bottom it is really good.
http://www.chuckhawks.com/p47.htm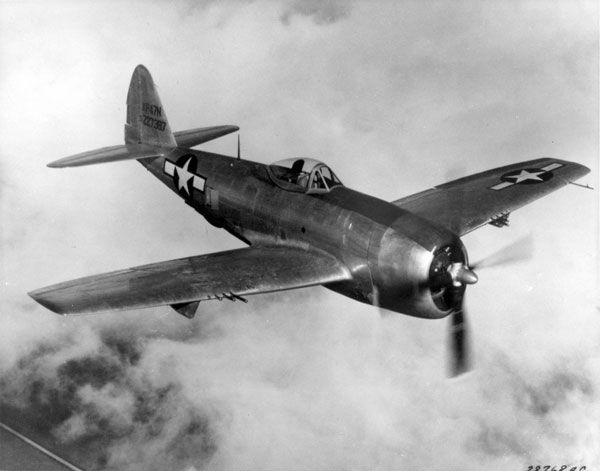 Yes this is a P-47. It is the XP-47H, a very fast model, topping I believe 505MPH.
The Thunderbolt is one of my favorite planes. They are fast, maneuverable, and tough. I also heard some were that there were the most expensive aircraft ever manufactured for the army, but I don't know if that's true or not.
What I read said that they were the most expensive fighter manufactured for the Army in WWII.
---
Permissions in this forum:
You
cannot
reply to topics in this forum